Exterior Car Care for your Mercedes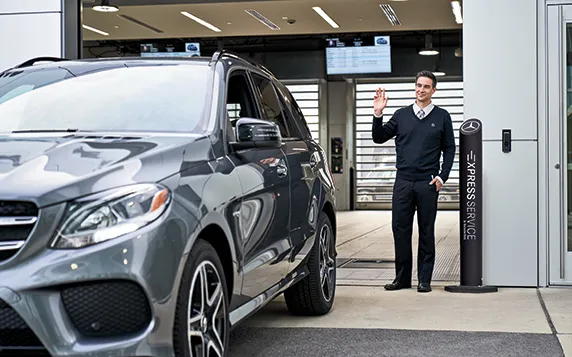 Exterior Car Care for your Mercedes
Brought to you by Mercedes-Benz of Charlottesville
Luminous paint, clean wheels, and a refined interior, your Mercedes-Benz provides qualities that are hard to ignore. This is why you should always use Genuine Mercedes-Benz Car Care Products to help you maintain its world-class, well-kept appearance. Mercedes-Benz Genuine Car Care Products have been tested to ensure compatibility with the materials of your vehicle. They are made from the finest ingredients, are effective, gentle, and environmentally sound. If you need help selecting the right product for the job, please ask one of Mercedes-Benz of Charlottesville Parts Advisors. Once you have chosen the right product for your Mercedes now, it's time for you to wash. The team at Mercedes-Benz of Charlottesville has put together a few tips for you to get the best results.
What is the best product to use for washing my Mercedes-Benz?
You must start by removing loose contaminants by washing your Mercedes-Benz using a vehicle shampoo, such as Mercedes-Benz Car Shampoo, and water. Start by mixing one ounce of car shampoo per gallon of water. Then rinse the entire Mercedes with a strong spray of water. Starting at the top, wash one section at a time using a soft, clean sponge or wash mitt. Once you have finished that section, rinse your car and mitt thoroughly before continuing to the next section to avoid any small dirt particles scratching your paint. After cleaning the entire car, please give it a final rinse and wipe it dry with a chamois or 100% terry toweling.
Should I use a paint protectant on my car?
For the best protection, after you wash your car, it's best to apply a protectant. We recommend using the Mercedes-Benz Paint Care. Paint Care helps to remove light surface impurities and polishes your vehicle's finish to a bright high gloss. Waxing your car also coats it with a complex layer of waxes, silicones, polymers, and resins that will work together to protect your Mercedes finish. Then, using a soft cotton terry or sponge applicator, apply the Paint Care evenly to the entire vehicle, one section at a time. Once you have finished the section and the wax has dried, you will see a haze. Remove this residue with a soft towel.
Where can I buy Mercedes Paint Care products?
Mercedes-Benz is a leader in the automotive industry, and its car care products are no different. Mercedes' products are exclusively produced in Germany for Mercedes-Benz. They are fast-acting and easy-to-use products that are also environmentally safe. You can find Mercedes Paint Care products in the Mercedes-Benz of Charlottesville's service department. These products can be purchased individually or in the exclusive Exterior Car Care Kit, including Car Shampoo, Light-Alloy Wheel Cleaner with a brush, Car Sponge, and a Car Care Cloth, all neatly packed into a Mercedes-Benz Leisure Bag.
Mercedes-Benz of Charlottesville is here to help you keep your vehicle in showroom quality shape!
Whether you are looking for a Car Care Kit or need service work on your Mercedes, visit Mercedes-Benz of Charlottesville. Our certified Mercedes-Benz service center in Charlottesville, VA., is staffed by expert ASE-certified auto mechanics and Certified Mercedes-Benz technicians.