2022 Mercedes-Benz C-Class Announced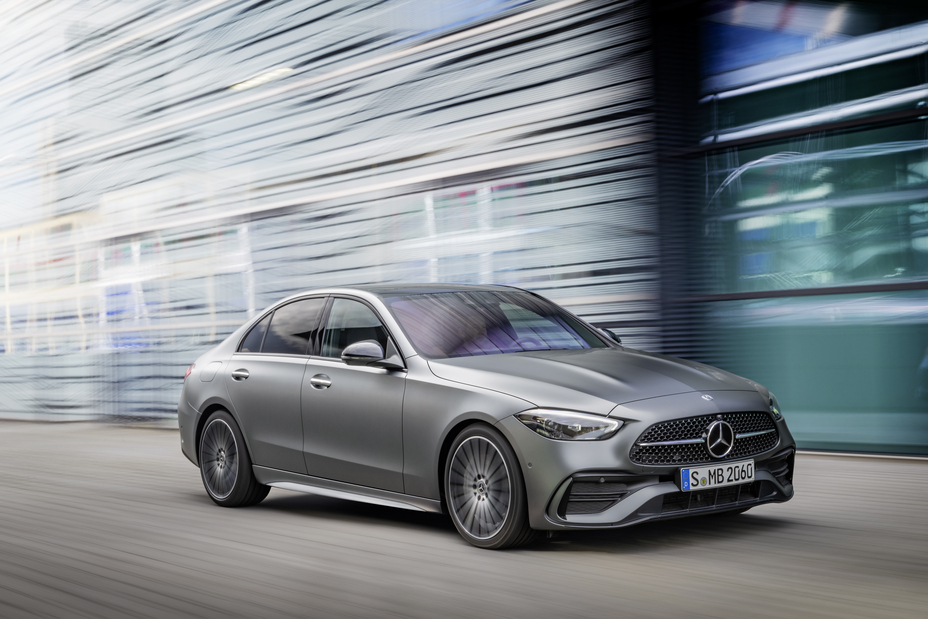 2022 Mercedes-Benz C-Class Announced
Mercedes-Benz has been at the forefront of automotive technology since its inception in 1926, and the all-new 2022 C-Class holds to its legacies. The C-Class is the most advanced vehicle in its segment. It will offer an all-new interior and sporty exterior design, along with an electrified engine, innovative comfort features, and groundbreaking technology. The design team at Mercedes-Benz found inspiration in the brand's all-new flagship S-Class. The C-Class takes comfort, safety, and the overall driver and passenger experience to a new level.
What trim levels will be offered on the 2022 Mercedes-Benz C-Class?
The 2022 C-Class will be offered in three highly-equipped trim levels. The Premium, Exclusive, and Pinnacle each trim level will be available on C 300 and C 300 4MATIC®. The C-Class will showcase innovative technologies and luxurious features beyond the generous standard features, along with extensive options for customization.
Does the 2022 C-Class have new paint color options?
Mercedes-Benz redesigned the 2022 C-class providing it with a cab-backward exterior design. The design team accented the new sporty design with a new A-shaped grille with an open star pattern and power domes on the hood that provides the C-Class with an aggressive profile and striking new look. The new design offers redesigned headlights two-piece horizontal taillight design, and a sleek side profile with a higher shoulder line present the C-Class as a modern sports sedan. Mercedes-Benz adds five new paint options to the line up allowing you to customize your all-new C-Class fully.
What size screens will be in the new C-Class?
The interior of the C-Class has been completely redesigned, offering a clear focus on technology and high-quality materials. The freestanding 12.3-inch digital instrument panel and new large 11.9-inch central touchscreen multimedia display are state-of-the-art. The all-new 11.9-inch central touchscreen offers a portrait orientation that is particularly beneficial for fullscreen navigation, further enhancing the driver experience. The driver will experience a driver-centered cabin design with the 11.9-inch central display being slightly tilted toward them. When Mercedes-Benz set out to redesign the C-Class that wanted it to be a top-of-the-line sedan, so they loaded it with the latest generation of Mercedes-Benz User Experience technology. The 2022 C-Class will offer a sophisticated, learning-capable infotainment system with advanced Voice Control. The interior of the C-Class comes with significant processing power abilities, with newly standard wireless smartphone integration with Apple CarPlay and Android Auto. Drivers will have individual Mercedes-Benz User Experience profiles that will activate by biometric authentication via the fingerprint sensor. The possibilities for personalizing your 2022 C-Class are far more extensive, and controlling vehicle and comfort functions is easier than ever before.
Will the 2022 C-class have any driver assistance systems?
Mercedes-Benz added a host of new available active and passive driver assistance systems to the 2022 C-Class. Engineers also installed advanced functions that reduce driver workload in day-to-day situations for more comfortable and safe driving. Thanks to Active Distance Assist DISTRONIC®, Active Steering Assist, and Active Lane Change Assist, your 2022 C-Class can semi-autonomously maintain its distance and speed to the traffic in front of you as well as keep you within your lane on multi-lane roads. The 2022 C-Class can also reduce your speed according to the traffic situation. The newly available Active Stop-and-Go Assist will provide semi-autonomous support in traffic jams at speeds up to 37 mph. The next-generation C-Class is poised to reinvent the standards of luxury sedans and take comfort, safety, and the overall driver and passenger experience to a completely new level.
How much horsepower is available on the 2022 C-Class?
The 2022 C-Class will debut a new turbocharged 4-cylinder engine with an integrated starter generator and 48-volt mild-hybrid technology. This will be the first four-cylinder gas engine in the Mercedes-Benz lineup with this technology. This electrified 2.0-liter 4-cylinder engine will be available on the C 300 and C 300 4MATIC® Sedan. Providing the driver with efficient performance and improved comfort, delivering 255 horsepower and 265 lb-ft of torque. The 48-volt mild-hybrid powertrain offers an extra 148 lb-ft of torque and up to an additional 20 horsepower.
Mercedes-Benz of Charlottesville is your trusted luxury auto dealer
The 2022 Mercedes-Benz C-Class Sedan will arrive in the first half of 2022. If you would like more information about the all-new 2022 C-Class, then head over to Mercedes-Benz of Charlottesville. Our goal has always been to provide fair, honest, and reliable service to every client that walks through our doors.